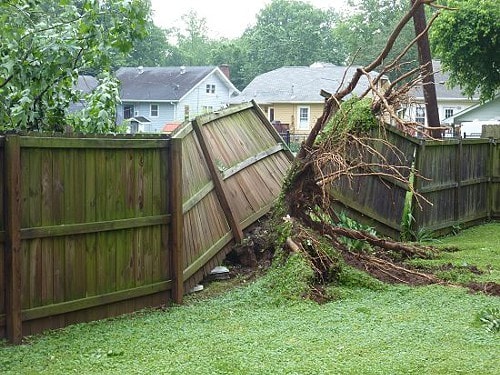 Fence Repair
Is your dog continually getting out of your yard and you can not figure out why? Maybe your fence is broken and needs some repairing done. Well have no fear, Fence Pros are here to offer you professional fence repair in the GTA.
If you are looking for a Fence Contractors in Toronto, our Fence Pros installation crew can take care of any fence repair for you. Our goal is to give you the most cost effective solution for fencing repair. We commit to making sure we try to repair a fence before saying that it must be taken down and a new fence installation is performed for your property. We offer the best solutions to Toronto fences. If you need any fencing in Toronto we have got you covered. Reach out to one of our expert fence technicians for a free consultation and estimate today. We are always happy to connect with our customers and help them out with any fence installation questions, such as if fence repair Markham is the best option or just installing a new fence. Call Fence Pros Today!
More about Fence Pros...
We have been building fences since 2004 and have now became one of the largest and most prestigious fence companies in Toronto, averaging 275 jobs per year of all scopes and sizes. We are proud to be an active member of the Canadian Fence Association and the Toronto Fence Contractors Association, promoting the ideals of professionalism in the fencing industry.Fence Pros Fencing provides the best fencing service in Toronto. With our huge selection of wood fences, you're bound to find a fence that fits your individual needs. We use beautiful yet durable materials, such as pressure treated and cedar wood, to ensure that your fence will stand the test of time. We carry fences for every aesthetic, whether you want a classic wood rail fence, picket fence, or even a privacy fence, the experts at Fence pros are up to the challenge.With such great demand, we have extended our services and are now providing fence installation all over the GTA, including Ajax, Aurora, Georgina, Keswick, Markham, Mount Albert, Muskoka, Newmarket, Holland Landing, East Gwillimbury, Pickering, Richmond Hill, ilixium casino, Uxbridge, Stouffville, Toronto, Mississauga, Scarborough and more!If you are looking for Barrie Fence Company, Richmond Hill Fence Company, Scarborough Fence Company, Toronto Fence Company, Fence Contractors MarkhamDo you need a new fence installed, fence repaired? Big or Small we can do it all! Call us today for a free estimate!Allen – 416 300 0846
Still don't know which fence to choose? Call 416-300-0846 and we will be glad to help you pick the right fence for you!