If you search for Metal Fence Installation Georgina you will find Fence Pros a local metal fence contractor.  We install metal fences in Georgina and surround towns in both York region and Simcoe County.
Metal fences offer a whole host of advantages over other materials. The beauty of a metal fence is widely-appreciated and it enhances your curb appeal, which can increase the value of your residential or commercial property especially if you live in the Georgina area. There's just something about the stately charm of a metal fence that is hard to overlook. They look beautiful no matter what use they are put toward, whether it's to surround a front yard, a pool area or a commercial complex.
Another huge advantage of metal fencing is that it is extremely durable, offering life spans of up to 75 years. It is common for metal fencing to outlast the owners who originally purchased it, making it a true long-term investment!
Metal is also a very secure material, helping to keep unwanted visitors out or children and pets in without sacrificing visibility to the surrounding area. You'll be able to rest more easily knowing your property is secured by fencing that is very difficult to breach. If concern for the environment is a factor that influences which material you choose, it's worth noting that it is possible to source fences made from recycled aluminum. In fact, aluminum is infinitely recyclable, making it one of the most sustainable metals on the market.
While the cost of metal fencing can often be greater than natural materials like wood, it's worth keeping in mind that metal fencing doesn't require nearly the same level of ongoing maintenance that wood demands. You have to decide for yourself whether you want to put in the time, effort and money required to maintain your fencing on a regular basis. If the answer is no, then it might just be worth investing in quality metal fencing.
Common Misconceptions about Metal Fencing Installation Georgina
It is commonly thought that metal fences are susceptible to rust. The reality is that, with some basic maintenance, treated steel fences can last 15 to 20 years without rusting. Aluminum fencing is even more durable and is able to withstand anything nature can throw at it while coming out unscathed.
Another common misconception is that metal fences are only available in precious few designs and styles. When it comes to your styling options for metal fencing, the possibilities are almost endless. Are you looking for a wrought-iron appearance that resembles something from the Victorian era? We can install something that fits the bill. Looking for something ultra-modern or contemporary instead? No problem. Whatever your fencing installation needs in the Georgina area, metal is a great choice of material that offers plenty of advantages. If you'd like an estimate on the cost of installing your metal fence, please click here to contact us!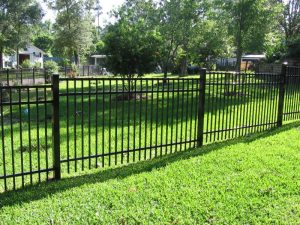 If you are ready to get a wood fence or metal fence installation estimate for your Georgina home or business property, call Fence Pros  at 416-300-0846 or click here to get a free estimate.