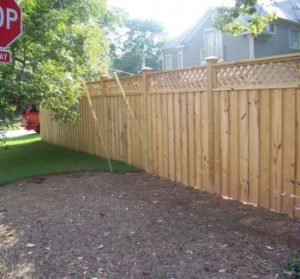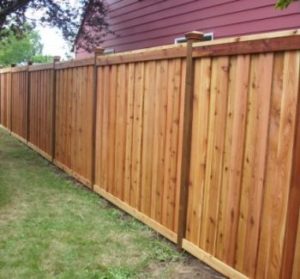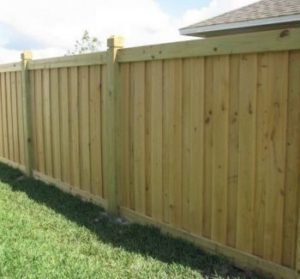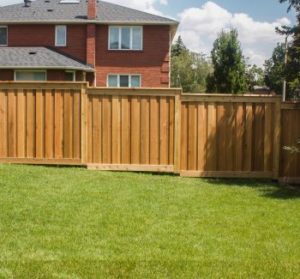 A board on board fence is simply built by layering vertical boards on top of each other.  With a Board on Board fence pickets overlap approximately 1″ on each side.  When built correctly, a fence like this should not allow sunlight to penetrate through the slats.  Advantages of this type of fence, other than privacy, are both sides of the fence can be equally attractive and it is true barrier for high winds.  It does require the posts to be buried ,deeper than other fence types due to its weight and wind resistance.A board on board fence is commonly used by homeowners who have swimming pools or hot tubs and need more privacy than a side by side fence offers.We suggest this style of fence for homeowners who want not only a quality privacy fence but something that will accent the beauty of their home and landscape. It is not the least expensive type fence to build, but it remains visually impenetrable for its lifetime, even if the boards shrink in dry weather conditions.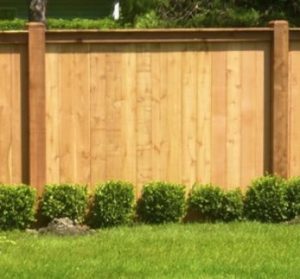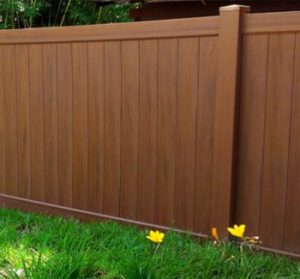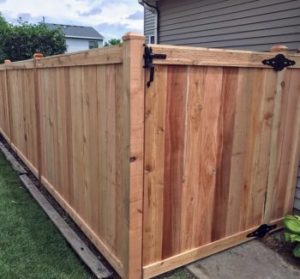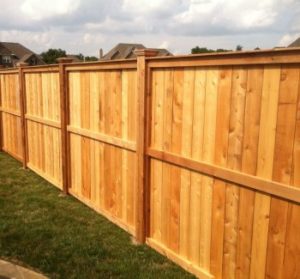 Overall, the Side-by-Side fence is often the most economical type of fence style in which the pickets are nailed with the boards edge to edge. A small amount of shrinkage can be expected between the pickets of a Side-by-Side style fence creating a small gap.We recommend this type of fence if you are only doing it for your own side. If you are requiring a fence for both you and your neighbor and need full privacy, board on board is better in this situation.
More about Fence Pros...
We have been building fences since 2004 and have now became one of the largest and most prestigious fence companies in Toronto, averaging 275 jobs per year of all scopes and sizes. We are proud to be an active member of the Canadian Fence Association and the Toronto Fence Contractors Association, promoting the ideals of professionalism in the fencing industry.Fence Pros Fencing provides the best fencing service in Toronto. With our huge selection of wood fences, you're bound to find a fence that fits your individual needs. We use beautiful yet durable materials, such as pressure treated and cedar wood, to ensure that your fence will stand the test of time. We carry fences for every aesthetic, whether you want a classic wood rail fence, picket fence, or even a privacy fence, the experts at Fence pros are up to the challenge.With such great demand, we have extended our services and are now providing fence installation all over the GTA, including Ajax, Aurora, Georgina, Keswick, Markham, Mount Albert, Muskoka, Newmarket, Holland Landing, East Gwillimbury, Pickering, Richmond Hill, Uxbridge, Stouffville, Toronto, Mississauga, Scarborough and more!If you are looking for Barrie Fence Company, Richmond Hill Fence Company, Scarborough Fence Company, Toronto Fence Company, Fence Contractors MarkhamDo you need a new fence installed, fence repaired? Big or Small we can do it all! Call us today for a free estimate!Allen – 416 300 0846
Still don't know which fence to choose? Call 416-300-0846 and we will be glad to help you pick the right fence for you!